Cherry Mobile Cosmos X2 Review
The local smartphone industry is indeed competitive. To support this claim, you can look at the specs of Cherry Mobile's Cosmos collection. Since I've already reviewed some of the smartphones within the Cosmos series, I think I might just continue and review the other Cosmos. I'll begin with reviewing the Cosmos X2.


Released just a few months ago, the X2 has a curved design that looks quite similar with the galaxy S3/S4. But, I really don't have any issues about it, as smartphones whether local or global do only have two choices in terms of shape. It's either a perfect rectangle, or a rectangle with curve edges.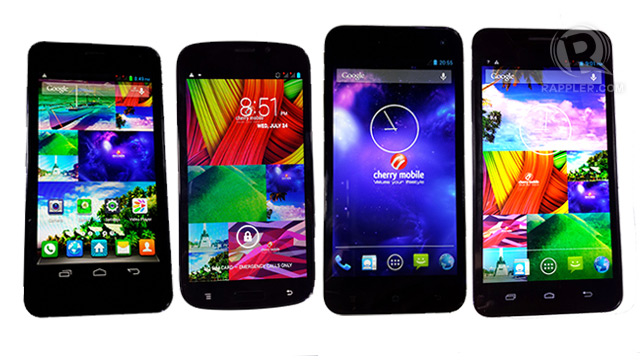 Cosmos X2 Specs
It's a 4.8" with a Super Amoled HD display & scratch resistant Dual Sim-Dual Standby smartphone that runs on the Android 4.2 Jelly Bean operating system. It has 1.2Ghz Quad Core processor, plus a 1GB of RAM. It has an internal storage capacity of 16GB with a card slot upgradable to 32GB. It has an 18MP autofocus back camera with LED flash and BSI, and 5MP autofocus front cam with BSI. It can record videos in 1080p@30fps FULL HD format. It can connect through WiFi and 3G. It is powered by a 2200mah removable battery, and has a selling price of 11,699 pesos.


Review Time


Dual sim – dual standby. I like the move of CM to keep the Cosmos X2 a dual sim-dual standby smartphone. This feature is a pop for me, because I can easily manage to use 2 sims in one mobile device.


Screen size. I have no issues at all with the screen size. Although it wasn't able to reach 5", but I guess a 4.8" screen is enough to cater every user's needs, whether in gaming mode or playing videos.


Speed. I bet that no one can criticize the speed of the X2 as it has the latest operating system with a quad core processor, so I guess you won't be having troubles in multitasking with this handset.


Gaming. The X2 enables its users to explore the latest apps with its combination of a 4.2 Jelly Bean operating system, quad core processor and a 1GB of RAM. In case you don't know, random access memory (RAM) plays a major role in accessing software/applications. The higher the RAM the better, especially when you are fond of running heavy software/applications on your gadget.


Storage capacity. Hurray to the internal memory as this handset comes with a 16GB internal storage. The card slot is also a big plus for users who needs more storage space. Among the Cosmos collection, the X2 is the only one that can provide an upto 48GB of storage capacity (16GB + 32GB microSD).


Camera. I personally checked the images captured by the X2's rear camera. Although the rear camera is an 18MP cam with LED flash and BSI, but, it still wasn't able to deliver excellent images in direct light and low light conditions. On one hand, in environments with normal conditions, it can definitely provide high definition photos.


In addition, when it comes to video recording, my opinion is still the same (the quality of the recorded videos depends on the condition of the environment).


Video playback. The video playback quality is commendable, as this handset can clearly play high definition videos/films smoothly. So if you love watching movies through your smartphone, then the X2 can be the perfect handset to choose.


Internet connectivity. I find nothing to criticize about the connectivity features of X2. But, I did not also find anything special about it. It has both WiFi and 3G capabilities which are quite normal for smartphones nowadays.


Power capacity. The good thing about the battery is the fact that it's removable. The bad thing is high quality batteries with higher mah capacity is not cheap at all. I guess this handset will survive with a 2200mah power supply if you limit your gaming and video playing habit.


Design. I've already said in paragraph two that I have no issues to the shape of this smartphone. But, I was not really impressed with its overall design, most especially in the back area of this handset. I think CM can do better than this, as the X2 looks cheap with that kind of back panel.


Price. Based on the overall specifications of this handset, I did not find the Cosmos X2 cheap nor expensive. Meaning, in my own view about its cost, I think the price is just right for this kind of high end smartphone.


Highlights
The highlights of the X2 are its speed and storage capacity.


The combination of a high speed processor with the latest operating system is very significant in enabling this mobile device to function in its superb speed ability, which allows me and you to multitask or even run the latest applications with no difficulties at all.


While among other Cosmos, the X2 is the only Cosmos with a 16GB internal storage plus an additional microSD card slot upgradable to 32GB.That's why I included its storage capacity as its other highlight.


Verdict
I've already placed my verdict on each feature of this handset. But, I would still like to say a final comment and recommendation.


The X2 is a perfect handset in case you are looking for a mobile phone that can offer an excellent speed to eliminate logs. However, I would think twice in buying the X2 if you are aiming to use it on your photography gigs.


Cherry Mobile has indeed level up the competition when it launched the Cosmos collection. With regards to this article, what I personally like about the Cosmos X2 is its superior storage capacity and incredible speed.


No offense to this smartphone's designer, but I was not blown away nor impressed with the design of this handset's back panel. If I would have it, then I would most probably buy a silicon case just enough to cover the back area.